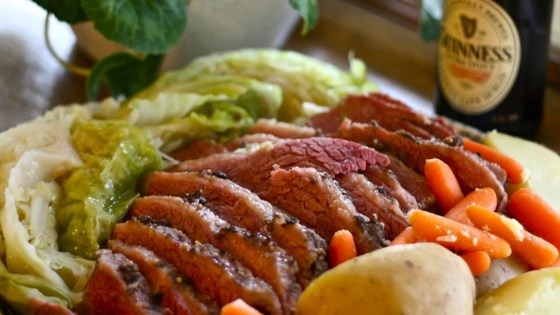 written by ByronBay Admin at 2019-03-12
Occasion: Casual Dinner Party
Recipe Course: Main Course
Five Ingredients or Less: Yes
Taste and Texture: Meaty, Salty, Spiced
Ingredients
1 (4- to 5-pound) 

corned beef

 brisket
1 teaspoon pickling spices
1 head 

cabbage

2 pounds boiling 

potatoes

6 to 8 small 

carrots

 (optional)

Parsnips

 (optional)

Turnips

 (optional)
Don't forget to serve this dinner with fresh slices of soda bread or rye bread on the side. Stay Tuned for our Soda bread recepie next week!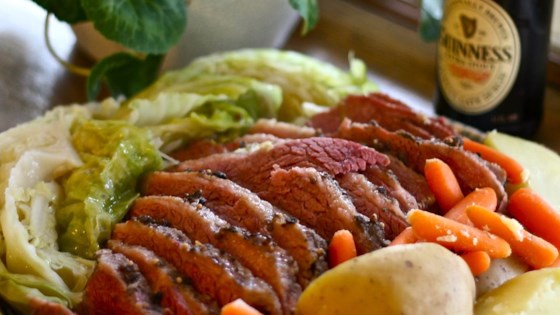 Instructions
Place the corned beef in a pot that holds at least 5 quarts. Cover completely with cold water. Place over high heat and bring to a simmer.

As soon as bubbles start to break on the surface of the water, adjust the heat so the water simmers very, very gently. With a slotted spoon, skim off the scum as it accumulates on the surface. When the scum stops coming to the surface, add the pickling spices.

Continue to cook, with bubbles just gently breaking on the surface, for 3 to 4 hours, until fork tender.

The meat can be safely held in its water for about 2 hours; reheat gently.

Cook the vegetables until fork tender in separate pots of boiling fresh water, or, especially for the cabbage, use some of the water in which the corned beef was cooked.

Serve the corned beef sliced, on a platter, surrounded with some of the vegetables or with vegetables in a separate bowl. Serve with mustard and/or horseradish.

 

 

 

Notes

 

The hardest thing about cooking corned beef is finding a good piece of meat. "Corned" refers only to the brining/pickling process that the meat has been through, not the cut, which is brisket. There are two muscles to the whole brisket, and their grains run diagonally to each other. The bottom, leaner muscle, which today often has too little integral fat to cook up juicy and tender, is usually called "first cut," "thin cut," or "flat cut." The so-called second cut, or point, the top and smaller piece, has more fat and is more succulent. Between the two muscles is a layer of fat.

Ideally, you want to cook a whole brisket (both sections together) with all its fat. You can trim off the fat after the meat is cooked. Unfortunately, whole corned briskets (even fresh briskets) are difficult to find, and second-cut corned beef brisket is even more difficult to find. What most supermarkets carry is first-cut corned beef vacuum-packed in plastic. Look for the fattiest piece in the case, then be sure to treat it gently.

Many people cook the cabbage and potatoes in the same water as the corned beef. Because the vegetables need to be cooked in water that simmers more violently than the meat, I prefer to scoop out water from the corned beef pot and cook the vegetables in a separate pot or pots.