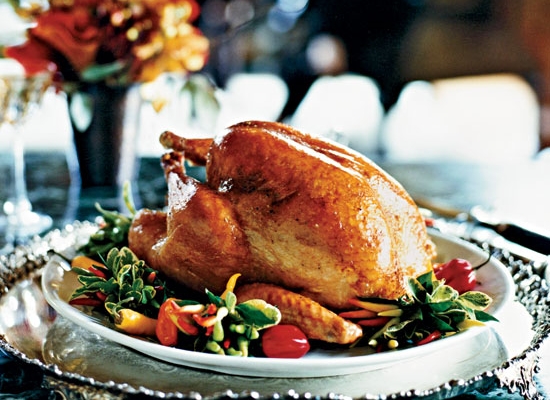 written by ByronBay Admin at 2014-12-01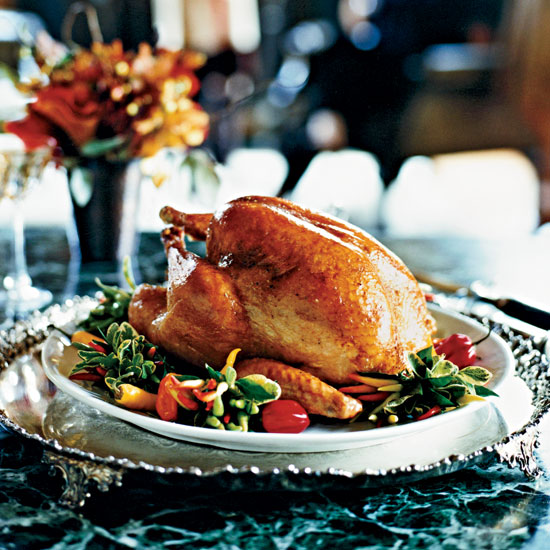 Roast turkey is my personal favorite 
on the christmas table and this is my 
number one way to make it – enjoy!
You will need 5kg (size 50) turkey, rinsed well inside and out, then patted dry
STUFFING

1 tbsp olive oil
250g speck or streaky bacon, rind removed and diced
1 brown onion, chopped finely
2 garlic cloves, chopped
1 tbsp lemon thyme leaves
2½ cups fresh breadcrumbs (don't use packaged dried breadcrumbs)
Handful flat-leaf parsley, chopped roughly
¾ cup unsalted macadamia nuts, chopped roughly
½ cup dried cranberries, separated
Cracked black pepper
TURKEY

2 tbsp duck fat or vegetable oil
Sea salt flakes
Baby spinach leaves, to serve
Gravy
Cooking juices (from cooked turkey)
2 tbsp plain flour
1½ cups reduced-salt chicken stock
METHOD
1. Before preparation Remove turkey from fridge 30 mins prior to cooking. Preheat oven to 200°C (180°C fan forced).
2. Make stuffing Heat olive oil in frying pan over medium high heat. Cook bacon and onion for 10 mins or until bacon starts to colour, stirring occasionally. Add garlic and lemon thyme; cook for 2 mins, stirring occasionally. Remove from heat and stir through breadcrumbs.
3. Add parsley, macadamia nuts, cranberries and pepper to stuffing mix; stir to combine. Allow to cool.
4. Prepare turkey Fill cavity of bird with stuffing. Cross legs and tie together using twine. Dry skin with paper towel, then rub with duck fat or vegetable oil and sea salt.
5. Place breast side down in baking tray, cover with foil and roast for 2 hours. Remove foil, turn breast side up, baste with cooking juices and continue to cook uncovered for 1 to 1½ hours until cooked through and skin is crisp.
6. Remove turkey from oven and place on platter to rest for 30 mins. (To make sure turkey is cooked, insert skewer into thickest part of thigh. If juices run clear, turkey is ready; if not, return to the oven and check at 20-min intervals). Serve rested turkey on a bed of baby spinach for carving.
7. Make gravy Meanwhile, strain cooking juices through sieve. Return to tray and place onto stove over medium to high heat. Add flour and whisk to combine with juices until smooth. Cook for 4 to 5 mins until thick. Add stock and cook for 5 to 6 mins, stirring, until thickened slightly. Season with salt and pepper and serve with the roast turkey.